Garmin Marine Plotter cards
As a distributor for Garmin we can supply you with the cards necessary to install on your Marine chart plotter as an aid for safety of navigation at sea.
BlueChart® g2
With rich colours and shading for easy interpretation and clear visibility, this marine charting offers comprehensive IALA navaid symbology and marine services.
A choice of 3D 'Mariner's View' map perspective, or the familiar 2D direct overhead view makes chart reading and orientation easier. BlueChart is styled to match the appearance of paper charts when displayed on a Garmin chartplotter or GPS mapping handheld device.
Features include shading between depth contours, spot soundings, navaids, port plans, wrecks, obstructions, intertidal zones, fishing charts, restricted areas and more. BlueChart cartography is object-oriented, which means you can pan to an object on the map and instantly view information about that point. Additionally, Fishing Charts contain detailed bathymetric data to emphasise bottom contours and depth soundings. These charts also remove navigation information from the map to reduce clutter and give clearer definition to the sea floor, ideal for fishing.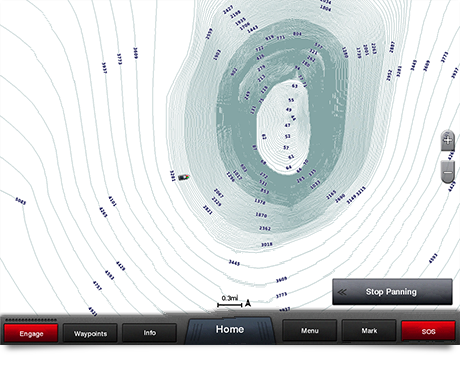 BlueChart® g2 Vision
Enhance your navigational experience with BlueChart g2 Vision high-precision charting, including our exclusive Auto Guidance technology, helping to find the best course for you.
Garmin's most detailed digital marine data contains premium mapping features including high-resolution satellite imagery, 3D perspectives above and below the waterline, AutoGuidance technology, aerial photography of ports, harbours, marinas and waterways and coastal roads with points of interest.
AutoGuidance technology finds the best course for navigation
High-resolution satellite imagery
Aerial reference photography for "real world" views of ports, harbours, marinas, etc
Mariner's Eye View provides 3D perspective of chart information above the waterline for a quick, reliable and easy position fix
FishEye View gives 3D perspective below the waterline, displaying bottom contours based on bathymetric charting data
Tidal graphs, current arrows, marine services, coastal roads and points of interest detail
Land-based information including detailed coastal roads up to five miles inland (non-routable) and business points of interest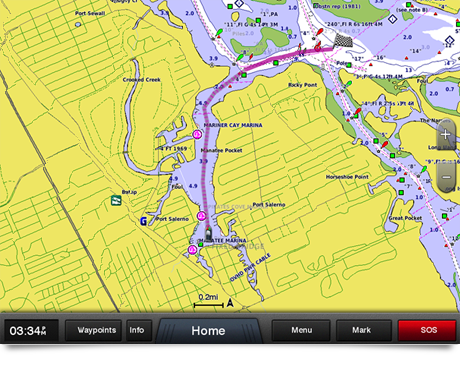 | Feature Comparison | g2 | g2 Vision |
| --- | --- | --- |
| Seamless chart presentation: | ✓ | ✓ |
| Vector object orientated data: | ✓ | ✓ |
| Shaded depth contours and inter-tidal zones with spot soundings: | ✓ | ✓ |
| Port plans: | ✓ | ✓ |
| Tidal stations for selected countries: | ✓ | ✓ |
| Aids to navigation including ranges and light sectors information: | ✓ | ✓ |
| Wrecks, restricted areas, anchorages, obstructions: | ✓ | ✓ |
| Tidal current graphs: | ✓ | ✓ |
| 2D or 3D map perspective view: | ✓ | ✓ |
| Marina points of interest and slipways: | ✓ | ✓ |
| Full Bathymetric Fishing charts providing detailed contours: | ✓ | ✓ |
| Auto Guidance technology to suggest best passages: |   | ✓ |
| Tidal current flow overlay: |   | ✓ |
| Aerial photos of ports, marinas, bridges & navigational landmarks: |   | ✓ |
| Detailed coastal roads up to five miles inland (non-routable): |   | ✓ |
| POIs such as restaurants, lodging, entertainment and more: |   | ✓ |
| Realistic "view from space" high-resolution satellite imagery: |   | ✓ |
| True 3D-view "MarinerEye 3-D" above-waterline imagery: |   | ✓ |
| FishEye 3-D view below-waterline imagery: |   | ✓ |
There being numerous cards and areas of coverage, please contact us for further information should you wish to make a purchase: